Luckily, we have the internet, and instead of MGC, the BitBuilt staff thought it would take the opportunity to showcase some of the great projects that were put together by our members. Let us be honest here. 2020 was a year that we hope we don't have to go through again. Despite the fact, 2020 brought with it a lot of opportunity for portablizers to capitalize on the work from home schedules and showcase their true talents. Time was now on our side, and it sure did show through. We had a huge number of contributions from members, both old and new. Veterans brought along fresh new ideas to the portablizing scene such as new case designs, CNC machining techniques and funtastic cases that we had never seen before. Old members continued to refine their designs and demonstrated how dedication and perseverance can lead to highly professional projects! We had huge contributions this year from Aurelio Mannara with GC+2.0, BBLoader and of course direct drive FPGA purely digital video output PCB for the Wii that will certainly change the game. It was a 5/5 star year for the BitBuilt community, and lets find out why we think so!
The Game Changers: 2020 Breakthroughs
This year, we had a number of different contributions to the portablizing scene that pushed our community in the right direction - modern solutions to old technology to make console portablizing even more accessible to a wide variety of community members. We saw the first ever Wii portable kit from GmanModz gain huge traction both within the BitBuilt community and outside of it, with LinusTechTips and SpawnWave purchasing and succesfully finishing their kits, as well as the release of BBLoader and Hiidra to replace PortablizeMii and neek2o respectively from Aurelio. Noah spent hours and hours creating a Wii Portable Assembly Guide that is very easy to understand - clear pictures, through descriptions and very well written - Noah deserves a big pat on the back for his major contributions this year to the forums. In fact, a huge thanks must be given to Aurelio, Gman and Noah for all of their contributions to the community each and every year, but this year in particular was a big one. Without their generosity, whether it be from answering questions on electronics (both hardware and software) to various members of the community, contributing to Wii/N64 portablizing and everything in between, portablizing would not have become as accessible to those who are initially unfamiliar with the concept of portablizing as it has become today. These members deserve a special mention for going out of there way big time this year to share their knowledge and finished projects! First and foremost, a big round of applause is in order for these members! Thank you!
Gboy Kit (BitBuilt Team)
After months and months of preparation, GmanModz presented the BitBuilt and wider community in 2020 with the first ever Wii portable kit that can be assembled by the every day hobbyist without the need to do any CAD work on their own. The "Gboy" kit targets a niche group of hobbyists who love retro gaming and the Wii console, but do not have the time to dedicate hours and hours into designing a portable case and electronics design. The Gboy is a fully portable Wii home console inside of a custom DMG themed case. It has battery charging/protection, system regulation, battery level indication and USB-C PD 2.0 charging with internal USB drive and a custom audio amplifier designed by Gman for the community - every feature you could want in a portable Wii is inside of this tiny little package. The Gboy kit was a huge success and its reach extended far beyond just the BitBuilt community - LinusTechTips, SpawnWave and The Retro Future all reviewed the Gboy on their YouTube channels and were avid fans of its unique design and nostalgic charm.
The below videos wrap up everything you need to about the G-boy, as reviewed by major influencers. Check them all out here!
Gboy: Everything You Need to Know (BitBuilt Team)
Gboy: Portable Wii that you Can Build (Shank)
Gboy Assembly (SpawnWave)
Gboy Review (The Retro Future)
Gboy Review (LinusTechTips)
--------------------------------------------------------------------------------------------------------------------------------
Gboy Assembly Guide (Noah)
Noah spent countless hours at the beginning of 2020 to update BitBuilt's front end and gave us a brand new look to the forums as well as an added sub-forum - BitBuilt manuals. The manuals page are for more in-depth guides than anything we've produced before - not too dissimilar to the iFixit guides or Prusa i3 MK3s assembly guides - very detailed with easy to follow instructions. Each of these manuals will break down the process they are explaining into very detailed steps. The G-Boy guide curated by Noah is a step-by-step manual for how to assemble that portable. New guides will be coming in 2021, so stay tuned!
This project has been in the pipeline since last year and it's wonderful to finally see it complete with the information released for everyone to enjoy. I have personally used the guide to assemble my Gboy and the process was an absolute breeze thanks to the guide. Noah took feedback from the community over the few months after the Gboy kit was released and slowly fine-tuned it to make it flawless. Awesome work Noah!
--------------------------------------------------------------------------------------------------------------------------------
BBLoader/Hiidra/Bluetooth Patches (Aurelio)
Pizza magic contribution #1!
The much anticipated replacement for PortablizeMii and neek2o, BBloader makes it appearance in 2020 with aplomb. BBloader's main objectives for Wii portables include a new-front end for Wii portables to replace PostLoader interface, integrated VGA patches replacing the old slow install process, neek2o complete replacement in the form of Hiidra kernel for near flawless booting of Wii games, improved USB compatibility and most awesomely, bluetooth patches to allow Wii games to boot entirely without the need for a BT module. GC2Wiimote is also still in beta stage, but can be configurated on a per-game basis directly in BBLoader GUI and allows you to play Wii games with a GC controller - something that portablizers have longed for for decades. It is everything we have ever wanted in our Wii portables, and what is crazy about it is that it is not even finished but yet still fully functional! Aurelio is working exceptionally hard on finalizing it to get it out of beta stage, but given the amount of work required, it will take some time to get it to a finalized state. Words cannot describe the gratitude we all feel for Aurelio for this awesome loader! It will eventually have a customizable front-end as well to add some personal flair to your portable consoles. Be sure to subscribe to Aurelio on patreon if you want to support his works.
Aurelio's Patreon:
For any FAQ's regarding BBLoader, you can visit here:
And for updates from Aurelio, you can follow along here:
--------------------------------------------------------------------------------------------------------------------------------
Direct Drive FPGA for Wii (Aurelio)


Pizza magic contribution #2!
Aurelio didn't slow down this year and has now finished an FPGA driver for the Wii, which allows pixel perfect display of Wii games by directly tapping into the direct digital video lines of the Wii. This bypasses the entire need for the audio/video encoder and grabs the signals directly from the GPU. The PCB is now available for purchase on the BitBuilt store for use in your portables. It is only currently compatible with select IPS displays, but Aurelio plans on expanding its compatibility in the near future for nearly all common screen types. RVL LCD Direct Drive RVL-DD uses an FPGA for directly driving LCD screens for the lowest latency, highest quality video output possible in a portable console. The useless digital->analog-digital conversion adopted using the standard AVE+VGA configuration is bypassed, obtaining a pixel-perfect picture. The RVL-DD PCB is much smaller than your average screen driver board allowing you to design your portables even more compact.Thanks to the i2c interface and the BBLoader integration it allows to control color settings, backlight brightness and widescreen stretching directly from software, without requiring any additional button.
Due to the limited first run and high popularity, the RVL-DD is currently sold out, but you can purchase it when it is back in stock here:
--------------------------------------------------------------------------------------------------------------------------------
GC+ 2.0 - A GameCube controller replacement - Written in C (Aurelio)


Pizza magic contribution #3!
GC+ 2.0 is an improvement to the original GC+ 1.0 developed by Aurelio for Wii portables, which replaces the need for hacking up old GameCube controller circuitry. Re-writing the firmware entirely in C instead of assembly (ouch), Aurelio finished this project early to mid 2020 and it has some notable improvements over the first design, including LRA/ERM rumble support, additional Z buttons for Wiimote functionality, new homebrew loader with remappable buttons, configurable trigger modes, scalable sticks (ranges and relocation) and new deadzone settings. What's more is that Aurelio being the nice guy he is, has opened sourced the code so people can make small tweaks and learn more about how it works. I personally have made some small tweaks to get my analog triggers working in my portable and it was very easy to do so!
Be sure to check out the full documentation on GC+ 2.0 here to learn more:
--------------------------------------------------------------------------------------------------------------------------------
N64+ (Aurelio)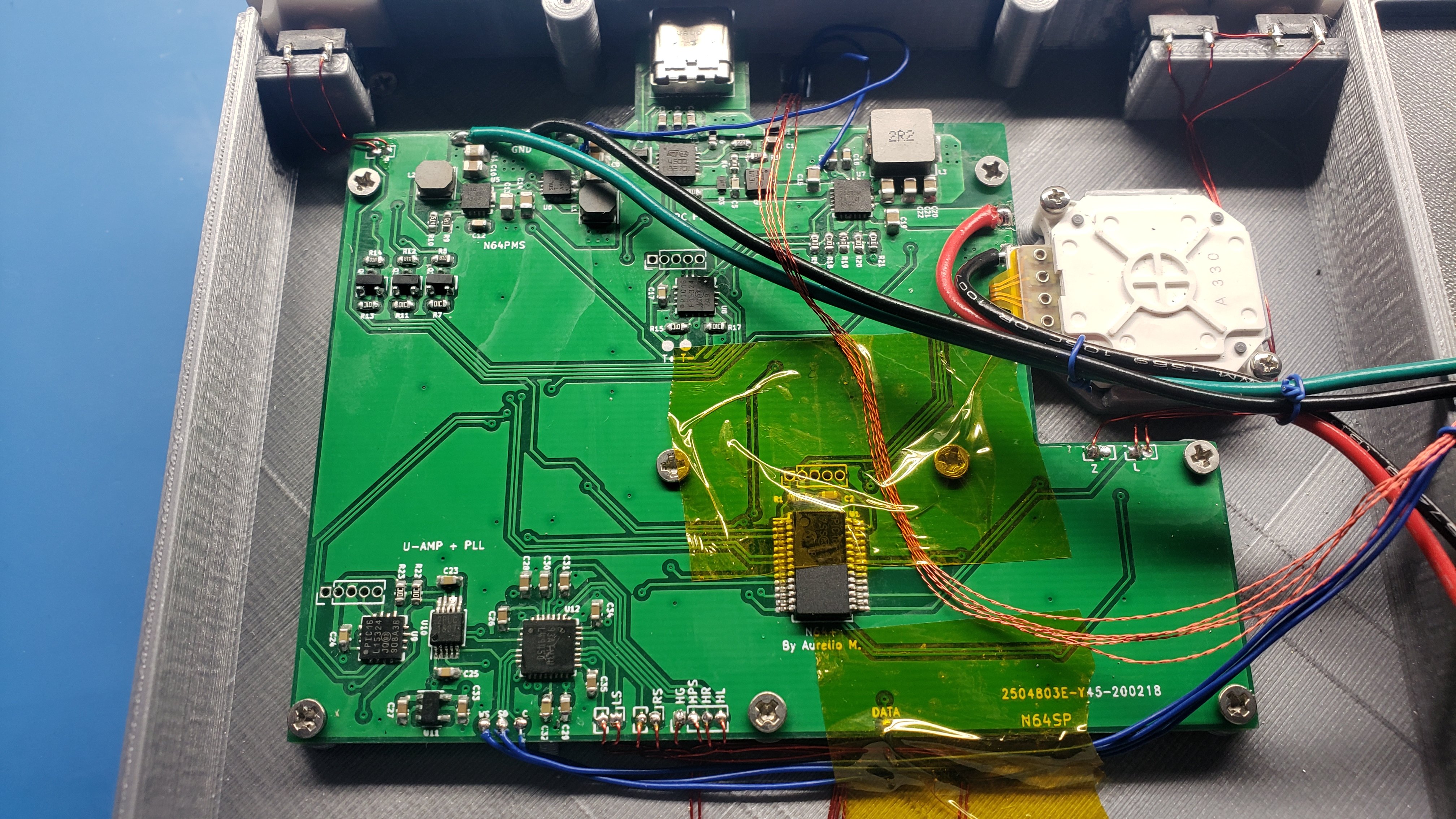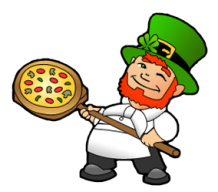 Pizza magic contribution #4!
N64+ is still very much in its development phase, but as the name suggests, it will be a viable replacement for an N64 controller from Aurelio. Gman was able to beta test it this year in his first N64SP, but decided to replace it with an original N64 controller with custom FRAM for saving games given that it still wasn't 100% compatible with all games. This is definitely a "watch-this-space" project from Aurelio - we are certain that advancements for N64+ will come very soon and we are very excited to see it working in portables in 2021. Given Aurelio had 4 great contributions this year, we think its fair that this man deserves a bit of a holiday!
--------------------------------------------------------------------------------------------------------------------------------
N64 A-I-O (Gman)
After receiving some advice from Marshall (fpgashibe) on his original N64 mobo redesign/reverse engineering project, Gman finally took the time to finish off his AIO (all-in-one) mini PCB replacement for the N64 motherboard. The N64 3X3 is a redesigned N64 circuit 3 inches on each side. About 2 years ago for a fun summer project, Gman mapped out the whole N64 schematic. With the excitement of the advancement of N64 trimming, he revisited the project after realizing the more you trim off the N64, the more relevant a new pcb would be. Given the old technology and larger size of the RCP and CPU/RAM chips used on the N64, a proper board relocation became more and more of a requirement to make smaller N64 portables since the trim is a limiting factor for the size of case designs. This version of the PCB however is just the beginning for this project from Gman. He hopes to make some variation of it opensource for anyone who wants to make a compact and neat N64 portable. This is a very exciting advancement for the community and I personally cannot wait to try building one myself very soon to make the ultimate mini N64!
Check out his progress on the project here:
--------------------------------------------------------------------------------------------------------------------------------
U-AMP for N64, Dreamcast, PS2 and Wii (Gman)
The portable community has been needing an amplifier for years and Gman delivered on his promise, producing the U-Amp or "Universal Amp" - that name referring to the fact that the amplifier can be used on every console to achieve crystal clear digital audio without any conversion by any encoders. Gman intially wrote code for the Dreamcast, PS2 and Wii in C and open sourced his design on his GitHub. He is now working on a u-amp that is also compatible with N64. The N64 I2S is a little strange because the audio sampling frequency can be set arbitrarily by the game and it can even change mid game for the N64.Gman rigged together a U-AMP along with a PLL IC to generate the master clock signal referenced from the I2S word select for digital audio for the N64. This amp should be coming to the store shortly as well as being open sourced.
The amplifier is also available on the BitBuilt store, so if you want to build your own portable and incorporate digital audio for a PS2, Wii, N64 or Dreamcast, this is the amplifier for you!
Don't delay, buy today!
--------------------------------------------------------------------------------------------------------------------------------
N64 Advanced Trim Guide - Coming Late 2020/Early 2021 (Gman/Noah)
We can't give away too much information at this stage, but BitBuilt members should look forward to receiving a massive resurgence to N64 portablizing come late 2020/early 2021. Gman and Noah have been working hard on refining the guides and trims of the old N64 era and we are happy to say that the trims have been tested extensively and confirmed to be working - minus a few tweaks here and there that have been discovered by other members of the community. The new N64 trim is a little larger than an OMGWTF for the Wii and is a little more extensive due to the number of N64 revisons made during its production cycle. The N64 guide is extremely easy to understand and contains all pinouts for all the necessary boot requirements and relocations to get your N64 working after its been trimmed. As the title says, this trim is an advanced level trim which should be performed by experienced modders to create smaller N64 portables. There is some very "hairy" trimming very close to critical tracks, so this should only be performed by those who have the confidence to do so!
This new guide will be coming very soon, so be sure to stay tuned and join us on the Discord for all the latest release updates.
--------------------------------------------------------------------------------------------------------------------------------
5th Anniversary Summer Contest
This year, BitBuilt hosted the 5th Anniversary Summer Building Competition. Overall we saw over 30 entrants join the contest but in the end, we only had 6 contestants who managed to finish their portables. The quality of the prizes this year were consequently ramped up in value compared to previous years, and with the success of the store thanks to all of our members, we were able to splurge a little more this year for our contestants. The projects were voted on by the members of our community (total: 80 votes polled) and is based entirely on case design/aesthetic, internals and features/functionality of the portable.
Interested in what the prizes were this year and who placed in the top 3 this year? Click the links below to find out!
2020 BitBuilt Summer Contest Prizes:
--------------------------------------------------------------------------------------------------------------------------------
Project Spotlight: Projects of the New Decade
There were so many fantastic projects and worklogs created this year. The BitBuilt staff wanted a way to congratulate every one of you on your efforts this year. The Wii took out first place with an astounding 15 projects near completion/fully completed, followed by the N64 with 8 completed projects. We also saw 6 PS2 projects and 5 miscellaneous projects, including the awesome 1st place Summer Contest 2020 winner - the Concept UFO machined entirely from aluminum grade metal from Dmcke5, and the well-known GameCube Joycons from Shank that rocketed to the top of the YouTube charts (reaching nearly 8 million views!). We couldn't include every single project, mainly due to how many there were, but if yours is in the list, it means you either completed your project in 2020 or are very close to completing it with a few little tweaks required to close it up! I think this list really shows how many great projects we saw this year and that in retrospect, we all achieved a lot despite it being a difficult period for everyone. We hope that you have not forgotten about your works and that this article will give you all the final "push" to get them done next year. It certainly was a busy year this year in 2020, much more than we were all expecting - lets try our best and break this record in 2021!
Again, a huge congratulations to those who built a great project/many projects in 2020. If you are interested in a particular project, you can view a snapshot of their current project (description, one image that captures the essence of their project best and a link to their worklog, as well as project status). If you find a project you like the sound of, go and show the creator the respect that they deserve by acknowledging their project and offering them some advice on how to make it even better! If you think your project deserves to be featured on the front page article, be sure to message the BitBuilt staff. We could not possibly include them all, but endeavored to put the projects we thought deserved to be recognized this year.
Without further ado, we present BitBuilt 2020 - The End of Year Project Spotlight.
Wii
Completed: 11
Uncompleted: 4
Total: 15
The Wii SPii
Designed by: StonedEdge
Project Status:
Uncompleted
Description:
The Wii SPii takes a real Wii motherboard trimmed down to LMAO size and fits it into a GBA SP like shell (keeping dimensions true except for the thickness). The final case is machined in acrylic on a CNC machine, and houses a custom AIO PCB with all of the features you could want in a modern Wii portable. The acrylic finish removes the issue of plastic yellowing which is an inevitable side effect caused from SLA printing with transparent resin when UV curing, giving the finish a true "clear" look. Plagued by several issues in his first build, StonedEdge redesigned the entire case from the ground up with the help of Dmcke5 skillset and CNC machine. Sometimes you need to know when to throw in an old design and start again to make it even better. It is the first portable to house real analog triggers with the use of hall sensors and neodymium magnets, which means no dual tact buttons which most portables use nowadays. Final dimensions for this project stacked up to 82 x 84 x 41mm. All of the assets required to build this portable will soon be available on GitHub as well as the BitBuilt forums if you want to have a try at building your own! Great work StonedEdge!
Worklog:
https://bitbuilt.net/forums/index.php?threads/the-wii-spii.3347/
The Party Box
Designed by: Wesk
Project Status:
Completed
Description:
The Party Box by Wesk is a treat for those who enjoy Wii laptops. It is fully open source. Boasting a beautiful 7" IPS display, sturdy hinges and 4 18650 Lithium-Ion cells, this is everything you could ever need to enjoy long smash sessions with your friends whilst enjoying a couple of beers. It has all 4 controller ports and VGA out, so you can hook it up to a large monitor to play with friends. It's chargeable via USB-C and can be hooked up to a PD compatible power source to play for longer sessions.
Worklog:
https://bitbuilt.net/forums/index.php?threads/party-box-wii-portable.3636/
The GC Micro
Designed by: Wesk
Project Status:
Completed
Description:
It's a micro Gamecube console which was heavily inspired by
@Madmorda
's "Worlds Smallest Gamecube".
Although this is not as small as
@Madmorda
's it is 3D printable (Files will be released) and utilizes a LMAO trim, which is much easier to pull off as opposed to an OMEGA. For anyone who wants a mini home console to impress their friends. The files again are all open source. Thanks Wesk for all your great contributions this year and we hope that you continue your portable rampage next year.
Worklog:
https://bitbuilt.net/forums/index.php?threads/gc-micro-worklog.3799/
The Swiitch 2.5
Designed by: BocuD
Project Status:
Completed
Description:
The Swiitch 2.5 is a 2-year in the making masterpiece finally completed in 2020 by BocuD. He pulled out all the stops this year with an all-in-one PCB, housing a reversed engineered driver board featuring the RTD2660 IC, as well as custom firmware to drive the 5" IPS display. BocuD's improvements are a testament to his perseverance and ability to improve his craft over the years - this portable being lightyears better than his original spaghetti NAND snapped abomination. If I had to choose between a Switch and Swiitch, I know which one I'd be choosing! BocuD plans on open sourcing this project in the future so that people can integrate the RTD2660 in their own designs, as well as build their own Swiitch Wii Portable. He is a very helpful, thoughful, friendly member of the community and I recommend you go and check out his work below!
Worklog:
https://bitbuilt.net/forums/index.php?threads/swiitch-2-5.2749/
The WiiBoy Color (Summer Contest 2nd Place)
Designed by: GingerOfOz
Project Status:
Completed
Description:
The WiiBoy Color is a beautiful Wii Portable from the legend GingerOfOz himself. After completing a revised Louii build, GingerOfOz tackled an even more difficult project. Taking the Gboy concept and making it smaller to fit an original GBC form factor, the end result is outstanding. It houses a lot of custom PCBs, as well as a custom LMAO trim which made this build possible. It has a VGA 3.5" display (640 x 480p) painted in white with a custom GameBoy Color logo. This portable gives off an original white Wii vibe whilst maintaining the nostalgic look and feel of a GameBoy Color. To pull off a portable in such a small housing is an impressive feat for any portablizer and we expected nothing less this year from verteran GingerOfMemes. Our second place contest winner in the 2020 Summer Contest this year. Make sure you go and check out the YouTube video here, and his worklog below. We look forward to more awesome projects from the master of WAH in 2021!
Worklog:
https://bitbuilt.net/forums/index.php?threads/the-wiiboy-color.3754/
The WiiSlate Mini
Designed by: Noah
Project Status:
Uncompleted
Description:
The WiiSlate Mini is Noah's first designed Wii Portable in CAD, and attempts to capture the essence of miniature Wii portables of the past with modern twists. It is clean, it is pocketable and it is elegant. What more would we expect from Noah after all - he has made Gboy's in all color of the rainbow! It has all of the features of the modern age, and it contains a number of flex PCBs to ensure ease of assembly. No melty PiiWii pocket stuff going on here (sorry Shank). It is currently a WIP, but given the attention to detail and thought Noah has given to the design of this project, we are sure that it will not take long for him to close this one up after he has finished the CAD work and ordered his BOM. This is one project you won't want to miss next year. A big thanks to Noah from all of us for all of his massive contributions this year. It is an impressive undertaking to both manage his own personal projects (major time investment) plus the store. Without him, the Gboy would not be successful and the entire forum would not be as welcoming as it is to new members today! Cheers to Noah!
Worklog:
https://bitbuilt.net/forums/index.php?threads/wii-slate-mini.3115/
UltraWii
Designed by: YveltalGriffin
Project Status:
Completed
Description:
The UltraWii by YveltalGriffin is one of the smallest Wii portables to date we have ever seen. YveltalGriffin is a true PCB artist and he puts a lot of effort into all of his PCB designs. His BAP (big ass polygons) are a work of art. He designs some of the most beautiful PCBs I have ever seen on the forums! His effort really shined through in this project. It houses a 3.5" VGA display and is the first portable to take advantage of the FPGA designed by Aurelio for the 3.5" screen. Yveltal is a very helpful member and often reviews PCB designs and layouts for his students, as well as members of the community. He designed his own BMS PCB for Revision 1, and has an even better Revision 2 UltraWii (featuring very tiny PCB with BGAs - oh my...) coming to a forum near you! You've gotta love those buttons though don't you?
Check out all you need to know right here!
Worklog:
AVEflex
Designed by: YveltalGriffin
Project Status:
Completed
Description:
Flex boards have been around for a while now (the NAND flex board is available on the BitBuilt store and is used for relocating the NAND flash memory of the Wii), but YveltalGriffin wanted to push the boundaries for Wii portablizing further and designed his own AVE Flex board this year. Although the AVE is now quite redundant thanks to Direct Drive from Aurelio, it still serves a purpose for those who want to relocate the Audio-Video Encoder (AVE) on 4-layer Wii motherboards. AVEflex is intended for OMEGA trims where analog video is needed and avoids the sacrificial daughterboard method currently used for AVE relocations. If you are interested in performing an AVE relocation, you can contact YveltalGriffin for more information on his AVE flex!
Worklog:
WiirdFlex/Wii Portable 2
Designed by: Mokus/Jefflongo
Project Status:
Uncompleted
Description:
This portable is a collaboration between long-time forum breaker jefflongo and mokus
@mokus
which aims to become the most ambitious and integrated portable yet. The idea is simple - design a compact portable with no wires whatsoever. Jeff has been working on this in his downtime and despite not making a large amount of progress this year, he still is hopeful to have the design completed soon. All circuitry fits on two small PCBs and connect together by using self-stacking connectors on each board. Wiirdflex is a flex PCB that allows for a highly integrated connection to the Wii without the need for any bulky wires. Check both projects out here from jefflongo and mokus respectively! We look forward to seeing an update from them both soon!
Worklog:
GCii Pocket
Designed by: Nold
Project Status:
Completed
Description:
Nold never ceases to amaze us here at BitBuilt with his projects and the GCii Pocket is no exception. Utilizing the power of the 420, Nold made a very sleek looking portable with battery grips and packed it into a very small but impressive package. What is even more impressive is that Nold didn't even use any custom PCBs, keeping it very old school with impressive internals and very neat wiring - something we have gotten used to from Nold over the years. Nold had a number of contributions to the forums this year, completing three fantastic projects and showing us why German engineering is a sight to behold. The portable houses a near OMEGA trim with AVE and NAND relocation board from GingerOfOz/BitBuilt team. He also modified the U-AMP to make it compatible with WiiHUD for on-screen volume display. Nold's projects are always very well built, and his memes are even better. Check out his video, and his completed build log here.
Worklog:
Wavebird Grips Portable
Designed by: Wesk
Project Status:
Uncompleted
Description:
With recently acquired 3D scanner in hand, Wesk took an old portable design (VariaCube) from the early 2010's and made it accessible to anyone who owns a 3D printer. Wesk is renowned for his contributions here on BitBuilt and has open sourced a lot of his designs upon completion - this one we are sure will be no exception! The portable houses a LMAO trim with two 3400mAh batteries with custom GameCube grips and a 5" IPS display. If you have any broken and old GameCube/WaveBird controllers lying around waiting to be brought back to life, this project is perfect for you. We thank Wesk for all of his hard work on the controller/console scans and hope that he still has time to complete one last project before he passes down the baton to his
portable slave
new one on the way! Cheers mate for all your great work this year.
Worklog:
https://bitbuilt.net/forums/index.p...portable-project-for-a-while.3890/#post-44130
Aran Wii Mini
Designed by: thedrew
Project Status:
Completed
Description:
thedrew took Wesk's Aran portable and decreased the size of it to house a 4.3" screen. The case is printed on the Prusa i3 with the beautiful PEI sheet in aqua blue and features a sexy two-toned case. The case was based on Wesk's original design and recreated entirely in CAD from scratch. His buttons are all custom 3D printed and has type-C charging, RVL-PMS and GC+ 1.0. Very nice work thedrew! We look forward to seeing your newer projects completed soon! thedrew is working on another revision of the Aran mini, as well as some other very mini consoles. Be sure to go and check them out!
Worklog:
https://bitbuilt.net/forums/index.php?threads/party-box-wii-portable.3636/
TheHeavii
Designed by: Emetsys
Project Status:
Completed
Description:
TheHeavii (as its name implies) is an aluminum frankencased portable that weighs a whopping 1.2kg (literally the same weight as the Wii itself!). It is a blast from the past and contains all of the older circuitry of yesteryear - PTH regulation, PAM8803 amp and passive cooling, the thing is a beast! It actually is one of the first portables to not require any active cooling which makes this design quite unique. Not exactly pocketable, but if have the biceps of Nicholas298, you may be able to in fact call this one a portable! Great work Emetsys!
Worklog:
https://bitbuilt.net/forums/index.php?threads/the-heavii.3401/
TheEnduro
Designed by: Emetsys
Project Status:
Completed
Description:
The Enduro Wii is Emetsys second Wii portable and boasts some vast improvements over the Heavii. Emetsys aimed to keep the project sleek and simple and he achieved just that. The case is beautifully sanded and features a gorgeous 7" Eyoyo IPS screen with great viewing angles. On top, it has digitial audio, RVL power management, 6 x 3400mAh batteries (crazy) for extended playtime and custom shoulder buttons that were designed by himself that look very nice. Overall it is a large portable but that doesn't make it any less sleeker than other builds that we have seen this year. Emetsys used all of the assets open sourced by GmanModz and GingerOfMods for referencing his design and making tweaks which is exactly what we like to see! I personally love this portable. Just look at the colors on that screen! Look forward to seeing more from him next year!
Worklog:
https://bitbuilt.net/forums/index.php?threads/the-enduro-portable-wii.3944/
GameBii Advance
Designed by: Pablo
Project Status:
Completed
Description:
GameBoy Advance form factor portable by Pablo. Contains a USB-C port for PD charging, MX relocation, bluetooth, slider pot for audio and 3 18650 batteries for around 3 hours play time. Pablo created this portable for maximum comfort and GBA aesthetics and we think he definitely achieved both of the goals with the Gamebii. Awesome job!
Worklog:
--------------------------------------------------------------------------------------------------------------------------------
N64
Completed: 6
Uncompleted: 2
Total: 8
N64SP (Revision 1)
Designed by: Gman
Project Status:
Completed
Description:
After discovering that the PIF IC could be fully relocated, Gman wasted no time getting to work to produce an N64 clamshell portable with an enclosed cartridge slot, featuring the most ambitious N64 trim ever done. Gman had planned on revealing his N64SP marvel at MGC but instead posted it early on the forums for us to feast our eyes upon. We all get excited over a little bit of Gman in our lives, but this portable is truly a masterpiece from him. It uses a 3DS XL hinge, houses UltraVGA for crispy video output (480p) and even has digital audio all built in. What is crazy is that this wasn't even Gman's final form!! Check out the build below to see Gman take this thing to the next level! Big thanks to Gman this year for all of his hard work for the community.
Worklog:
N64SP (Revision 2: Funtastic Editions)
Designed by: Gman
Project Status:
Completed
Description:
Gman finally took advantage of the fact that he owns one of the best resin printers on the market (Form 2) and resin printed his N64SP case in transparent resin. He then subsequently went mad and decided that it would be a good idea (after making every single coloured Gboy) to make all of the funtastic memes. They are some of the most beautiful cases I've seen and I am sure a lot of people could agree with me on that! We look forward to seeing hopefully a Jungle Green N64SP rev2 very soon from Gman. The build has some improvements over the first revision, including speakers that make contact with the PCB with no wires, as well as Gman's custom code to emulate the encoder joystick with a 3DS slider. All of the buttons are cast from resin moulds. A "funtastic" effort from Gman this year with the N64. The N64 guide will be coming very soon to all BitBuilt members. Make sure to join us on the BB discord for all the latest releases!
Worklog:
Fusion 64
Designed by: Noah

Project Status:
Uncompleted
Description:
Taking a page out of Ashen's book, Noah takes advantage of the new N64 trim advancements to make one of the sleekest looking N64 portables we have seen to date. Designed in CAD by Noah allows it to be fully 3D printed for neat internals and clean wire management. The entire N64 can be powered on 3v3 without 5v as there is no need for the onboard 5v LDO to power the video DAC. It has had its RDRAM swapped with 2 4MB chips so that it is compatible with all N64 games that require the expansion pak. It also will be one of the first portables to house sixty-flex, a custom PCB with FFC to allow for easy relocation of the cart slot. This portable even has a custom rambus terminator flex PCB which allows Noah to make the trim smaller by removing the jumper pak connector. What's even more impressive is that this fits 4 x 18650s to power the N64 for close to 5 hours, which is a very solid level of battery life. This project began in January of 2020 and despite not seeing much updates from Noah, we are sure that he has not forgotten about his portable and will have it completed next year for MGC November 2021!
Worklog:
GameBoy 64 v2
Designed by: MomSpaghetti
Project Status:
Completed
Description:
The GameBoy 64 from MomSpaghetti is a huge aesthetic improvement over the first version. It houses 2 18650s and a 5" LCD TFT screen. His updated version made improvements to the paint job, the finish a metallic blue paint is a work of art and looks beautiful. Other small tweaks include better cable management, different wires for video/audio and less hot glue overall.
Worklog:
Miceeno's N64 Portable 2020 (Summer Contest 3rd Place)
Designed by: Miceeno
Project Status:
Completed
Description:
Miceeno entered into the Summer 2020 contest this year with big boy purple N64 portable, featuring UltraVGA for crisp 480p video output. It contains a RAM swapped N64 for great memory, UltraVGA from marshall, 64drive (internal everdrive for loading games) and a whopping 10" display with... woah, 8 x 18650 cells for infinite play time! (not actually though, but boy oh boy). This is the ultimate ThiccBoi (sorry
@HackerBilly
!) and we love the fact that it also has VGA out for playing with friends (and 4 controller ports, too!). Miceeno is a long-time running member of the community and his written some very useful guides for all members in the past. We hope that he can continue to support the community in 2021 and beyond!
Worklog:
Last64
Designed by: Nold
Project Status:
Completed
Description:
Nold went out with a bang with his final N64 portable, the Last64. Nold has made several N64 portables and had the itch in 2020 to make something formidable given the resurgence of N64 portables in 2020 that came along with all of the trimming advancements for the console. From nold's perspective, what makes this portable the "ultimate N64" is that it contains all of these outstanding features - a 90deg. bended card slot, N64Advanced for VGA output, internal everdrive64 storing all games - no emulation of course here! The case design is based on an old favorite of nold's projects (the Woodii) and is wet sanded painstakingly by hand over several hours, giving it a silky, shiny finish. Nold redesigned the internals to ensure the N64 doesn't overheat. Unfortunately, the beautifully 3D printed N64 logo on the back had to be replaced by some fan vents, but we still think its very hot. It uses a 3DS slider via an N64 stick converter with an original N64 cap to boot. The Last64 is definitely the best way to enjoy N64 gaming in 2020 this year
whilst getting high.
Great work noldster!
Worklog:
Pears' N64 Portable
Designed by: Pears
Project Status:
Completed
Description:
Pears created the ultimate jungle green N64 console for his first portable designed entirely by himself himself (kudos!) and the results look exceptional! Pears approached his first portable the right way by not being too arrogant in his approach designing the portable to be easy to assemble to improve his soldering skills and overall understanding of the N64 before diving into deeper waters - something that we respect! Features include a sexy funtastic green case, expansion pak RAM swap, 5" screen, N64 PMS, U-AMP and USB-C, N64Advanced for RGB output, 1s4p 18650 battery pack configuration and an everdrive64 neatly placed on the back of the case to play all your favorite games! Pears says that its a bit chonky for his first portable, but despite the fact it is surprisingly comfortable to hold. He is pleased with it and I think we are as well! Great work Pears!
Worklog:
First N64 Portable
Designed by: Printsmith
Project Status:
Uncompleted
Description:
Printsmith set out to build an N64 as part of the 2020 Summer Contest this year with a number of goals in mind: ergonomic 3D printed case for speedrunning his favorite games, learn PCB design with EAGLE and build a portable with an internal expansion pak and custom switch joystick for directional movement. Given his technical expertise as a mechanical engineer with thorough experience in CAD, we were very excited to see what kind of ergonomic design printsmith could come up with, and he did not disappoint! Despite having some technical issues with his design (and trimming through enough N64 PCBs for a LAN party of 24 people!), printsmith surely impressed us this year for someone who came into the hobby with zero PCB design. Just look at the booty on that thing! We hope printsmith can come back with a vengeance in 2021 and deliver something awesome for the contest, as well as iron out some of the issues still currently plaguing his portable, because it deserves to be a fully functional one at that. Great work printsmith!
Worklog:
--------------------------------------------------------------------------------------------------------------------------------
PS2
Completed: 3
Uncompleted: 3
Total: 6
PS²
Designed by: thedrew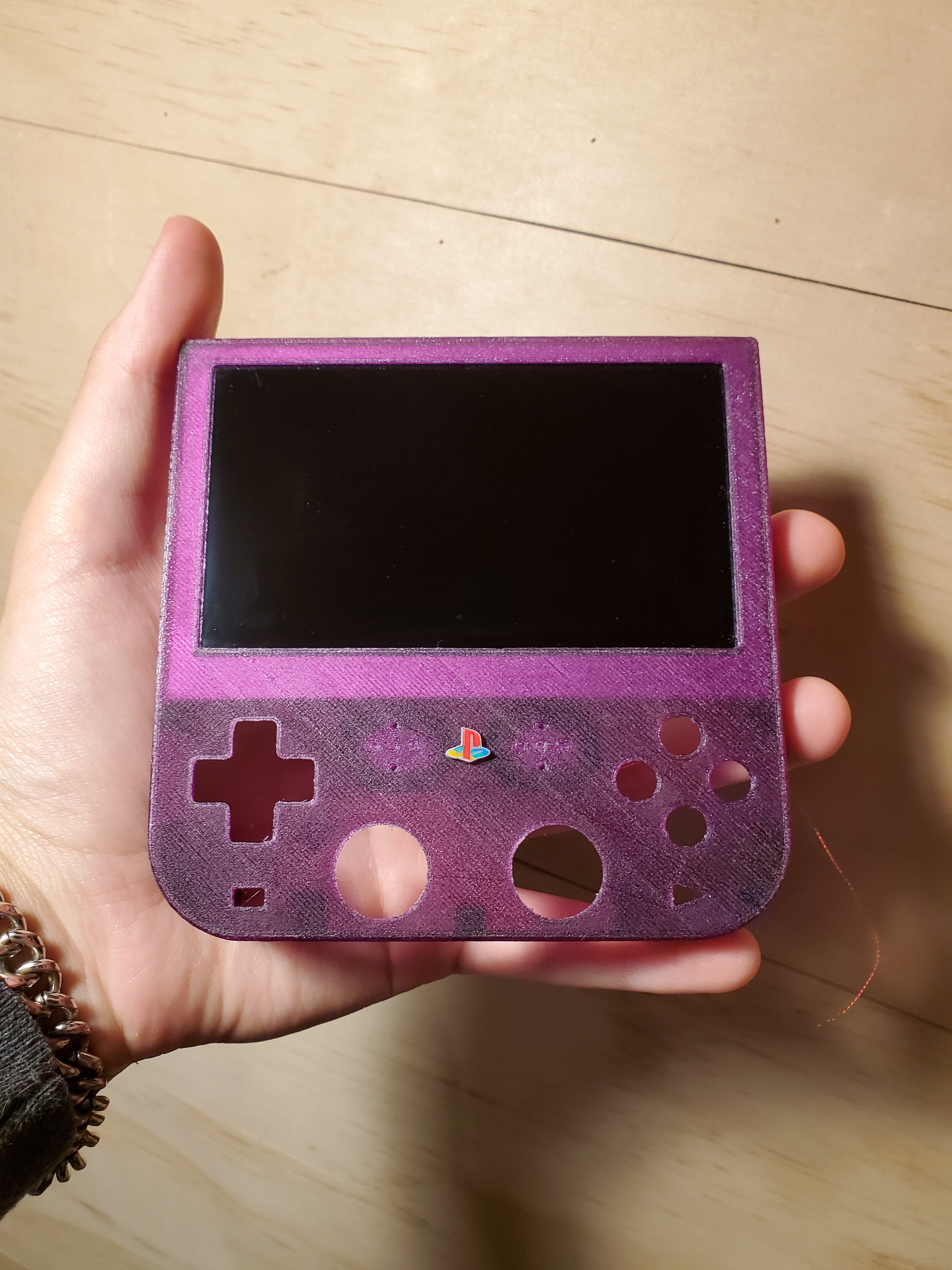 Project Status:
Uncompleted
Description:
thedrew wanted to take a break from Wii portables and dive into the world of PS2 portables. He started his worklog in February and made decent progress, but unfortunately we have not seen any updates to what seems like a very exciting project from him! It contains a 4.3" IPS component display, 7.4v 3350mAh LiPo batteries, charge and play, PS vita buttons, custom reg board designed by himself, advanced PS2 trim and more. He opted to print it in a gorgeous pink filament that we think looks fantastic. The form factor is very unique and is something that I could see myself playing for hours on end. We really want thedrew to finish this one off soon!
Worklog:
The PlayStation Shield
Designed by: MomSpaghetti
Project Status:
Completed
Description:
The PlayStation shield from MomSpaghetti is a really nice portable that features a PETG printed blue case, 5" VGA display (switchable to AV using control buttons) advanced PS2 trim, 3rd party controller internalized, FMCB memory card, 4x18650s and a Raspberry pi 3b+ for the SMB method for quick loading of games instead of via USB 1.0 snail speeds. A very nice portable indeed. Our palms are sweaty, knees weak arms are heavy and we are ready (there is vomit on our sweaters?) for the next project from Mom(s)Spaghetti!!
Worklog:
MrKane's Final PS2 Portable
Designed by: MrKane
Project Status:
Completed
Description:
If there was any portable that just did not want to be assembled this year no matter what, MrKane's PS2 portable would be crowned king of stubborn portables 2020. Just check out his worklog to understand what I mean. Despite his numerous struggles to get an FMCB memory card detected by the PS2, MrKane persevered and with the support from his little chirpy friend Fluffy, managed to put together a gorgeous PS2 portable with a custom acrylic piece for maximum aesthetics. The portables has an 8" screen with component input, real PS2 buttons, AV out port, headphone jack, SMB server, USB port, charging indicators and onboard screen controls using PWM setup to PS2+. One hell of a rollercoaster ride for MrKane but the end results paid dividends! Check out the ups/downs and struggles/victories from MrKane as he battled to put this thing together in his worklog below!
Worklog:
PS2GO!
Designed by: Alex Portugal
Project Status:
Completed
Description:
I'll have one PS2GO! please. No seriously, this PS2 portable from Alex Portugal is a very well thought out PS2 portable with excellent CAD design and even better internal wiring from him. The printed case was split in two pieces due to the limitation of print bed size on his 3D printer, but we think its hardly noticeable that it is printed in two pieces. The case was professionally sanded and painted in metallic blue paint and looks like an official PS2 console. It's quite large, but that gave Alex a lot of room to work with inside of his case to make it easy to assemble. It houses a 7" HDMI screen, RGB to HDMI converter, 4 x 18650 batteries, red BMS and headphone jack with 64MB internal memory for saving games. It looks awesome and there is truly some amazing wiring in there. Dare I say it, better than Gman wiring? Sweet stuff dude!
Worklog:
PSQue
Designed by: Pacal
Project Status:
Uncompleted
Description:
Personally one of my favorite PS2 designs of 2020, Pacal set out to make an ergonomic PS2 portable that both looks and feels great to play. The internal design is flawless and everything that needs its place has it without compromising too much. You can check out the CAD work in the worklog below as I think it speaks for itself. It includes a 5" VGA screen, Nintendo switch sticks, PS2PMS, U-AMP and 2 18650 batteries. The last update we saw from Pacal was in September, so we know he is still working on this in the shadows! Good luck to Pacal next year on completion of his PSQue!
Worklog:
Ginger Does a PS2 Thing
Designed by: GingerOfOz
Project Status:
Uncompleted
Description:
GingerOfMods has made so many Louii's that he thought he better just make a PS2 so that it wouldn't be so lonely. He mentioned that he has never had a whole lot of motivation to do a PS2 portable, just because he just never had any interest in the games for it. With all the hype surrounding FF7R's release, he decided to give the original Final Fantasy 7 a shot and ended up really enjoying it - and thus the "Ginger Does a PS2 Thing" portable came to fruition. It will house a 5" 4:3 screen, advanced PS2 trim, switch joysticks, PS2 vita action buttons, PS2PMS, USB-C charging, U-AMP and PS2+. The last update we saw from Ginger was a while back, but we would love to see him finish off his PS2 portable before the end of next year. Unfortunately there is no Waluigi on the PS2 but if there was, this would the first game Ginger would probably play. Nice work king of WAH!
Worklog:
--------------------------------------------------------------------------------------------------------------------------------
Miscellaneous
Completed: 4
Uncompleted: 2
Total: 6
D.I.Y Concept UFO (Summer Contest 1st Place)
Designed by: Dmcke5
Project Status:
Completed
Description:
The well-deserved winner of the 2020 Summer Building Competition, Dmcke5 takes a concept portable from Alienware and brings it to life with his gorgeous windows based Concept UFO project. The case is machined out of aluminum on his own CNC machine, painted in white with black accents and custom buttons/LEDs/controller. Dmcke5 designed ergonomic grips for his portable and designed the case with maximum comfort in mind. This truly is one of the best looking portables we have seen on the forums to date, and a well deserved winner this year for the 5th Anniversary contest. Be sure to check out Dmcke5's contest entry video and worklog, and his latest collaboration with StonedEdge - the Retro Lite CM4!
Worklog:

Switch Lite Sized Raspberry Pi Portable
Designed by: Dmcke5
Project Status:
Completed
Description:
Dmcke5 joined the BitBuilt forums early this year in 2020 and started off his journey with one hell of a bang - showing old and new members what a professionally CNC case job looks like in aluminum finish in an era where FDM printing/painting cases had become the norm. Before starting this project, Dmcke5 already had a solid understanding of CAD and CNC experience so he wanted a bit of a challenge for himself. With his passion for gaming in hand, he decided that he liked the form factor of the Nintendo Switch lite and wanted to stick as closely to that design, within reason. The case is finished with a hard blue anodized finish and houses a Raspberry Pi 3 with HDMI screen. Dmcke5 was not happy with certain aspects of his design and has teamed up with StonedEdge in 2020-2021 to make a more honest replica of the Switch Lite. Improvements include custom PCB with stacked connectors for the newer CM4 module, HDMI driver onboard, USB-C charging and data capabilities and HDMI out with custom dock. We look forward to seeing what they can come up with next year!
Worklog:
GameCube Joycons
Designed by: Shank
Project Status:
Completed
Description:
Undoubtedly one of the biggest success stories of 2020 on YouTube, Shank took the concept of GameCube controller joycons that a lot of people had requested Nintendo to build for a number of years and made them into reality. The GameCube joycons take real joycon hardware and maintains full functionality of original joycons whilst putting them into a much more ergonomic and comfortable controller that we are all too familiar with and fond of. Shank's ingenuinity and creativeness shined through in this project, and the popularity of his YouTube video speaks volumes about the demand for these controllers in the Nintendo Switch community. We look forward to seeing Shank continue his great work into 2021. Shank has been around the community for years and despite being busy with his studies, has two exciting works to look out for. A well-needed update and upgrade to the PiiWii pocket (v2) as well as a never-before-seen RealBoy (Virtual Boy) portable are coming soon! Congratulations on a succesful year to Shank and we look forward to seeing your high quality work next year. Great work Shank!
Worklog:
RealBoy
Designed by: Shank
Project Status:
Uncompleted
Description:
Diving into uncharted territory is something the Shank Mods has gotten used to. From the smallest Wii Portable that melted our hearts and his own device, the PiiWii pocket, to the GameCube joycons and WiiVision recreation, Shank dives into the unknown in 2020 with his RealBoy concept portable. No eye cancer guaranteed, the RealBoy is the pocketable Virtual Boy handheld with 480p 4.3" display with type-C charging, HDMI out and controller port that all RealBoy fans ever dreamed of. This Virtual Boy is both a handheld and a home console, all in one. It features a beautiful two-toned red and black case and is designed to mimic the 2DS geometry as best as possible in CAD. We look forward to being the receipients of eye cancer next year! Thanks Shank!
Worklog:
GameCube Grips for Nintendo Switch
Designed by: Bill Paxton
Project Status:
Completed
Description:
A different spin on the GameCube joycons designed by Shank, Bill Paxton created a custom controller grip for the Nintendo Switch, frankencased out of oriignal GameCube controllers/parts. Inside is a split GC controller pcb wired to a GC+. Also inside is a rearranged and rewired Anker PowerCore 20,100 mAh Portable battery pack. Perfect for comfortable smash sessions on those long winded holiday trips in the car! Bill Paxton always makes great projects and this one here is no exception. Excellent frankencasing work, Bill! Check out the finished product below. He also made a YouTube video, so be sure to check it out!
Worklog:

Retro Lite CM4
Designed by: Dmcke5 and StonedEdge
Project Status:
Uncompleted
Description:
Dmcke5 teamed up with StonedEdge this year to create a Raspberry Pi CM4 portable inside of a Switch Lite housing. After receiving a lot of help from Dmcke5 on the Wii SPii, StonedEdge thought it would be only right to repay the favor and assist Dmcke5 with PCB design aspects of the project. Dmcke5 wasn't happy with a couple of design choices in his previous build (namely, the lack of a second joystick and dual shoulder buttons). The internals will have several controller PCBs connected to an arduino microcontroller. Other notable features include a 5" IPS display with custom HDMI driver, resin casted buttons, anodizsed housing (acrylic prototypes coming soon), USB-C charging and external HDMI output for playing games on a big screen. The 4000mAh battery should power the device for a little over 2 to 3 hours, but testing hasn't been performed just yet! We look forward to seeing yet another beautiful aluminum/acrylic case combination from these two in the near future - be sure to follow along by clicking on the URL below!
Worklog:
Gboy Completion List
Finally, a big congratulations on behalf of all of the BitBuilt staff to all those who forum members who bought a Gboy kit and managed to complete it this year! You can be proud that you were able to assemble a very difficult project that requires intricate soldering, dedication and a thorough understanding of the Wii to get it done. You all deserve a mention here! We all thank you for your contributions to the store and the BitBuilt community and hope that you will continue to support the portablizing movement next year!
Noah (completed the entire rainbow spectrum of Gboys)
Gman (too many colorful Gboys to count)
Wesk
Our Gboy Model a.k.a Gains (Nicholas298)
Aurelio
SpawnWave
LinusTechTips
HackerBilly
StonedEdge
MiseriesChild
Pears
Trikky
jerb
Domo
dev0range
Cyframe
cheeto
alexbragdon
Aether Solair
Chrisdako
CrazyGadget
Fuzzy
Gmanscout
Goochifpv
jamesc
JohnnyPsmurf
Korn34517
loopj
Milosonator
NCDC.EXE
PiR8_BTY (Special mention for completing 2 awesome Gboys!)
Shurkainn
smoscar01
swampk1ng
thegameboyboy1
yodog1414
Once again, on behalf of all of the BitBuilt staff, we thank our members for making 2020 a fun and enjoyable year. You make BitBuilt a fun and welcoming place for all members to share project ideas and spread the love for old consoles. Despite difficult circumstances that prevented a lot of things from getting done this year, there is one thing for sure... BitBuilt 2020 did not disappoint! Be on the lookout in 2020 for updates to old projects from 2020, as well as new and improved builds in 2021. With 2020 being such a successful year for BitBuilt, we cannot wait to see what 2021 has in store (both literally and metaphorically!)
- BitBuilt Staff 2020
Last edited: