Joined

Sep 27, 2016
Messages

324
Likes

603
Maybe too early in the process to start a worklog, but what the heck...
Taking a break from my Wii board redesign since it is a bit overwhelming at times, and started focusing back on the PS2. My previous PS2 portable works great but like anything, the more you use it, the more you find things you would change on the next build.
The biggest flaw in my previous portable is the screen, which is the 4:3 640x480 TFT screen that everyone here uses since it can accept 480i natively which unfortunately is what plagues most PS2 games. Screen looks sharp only if you can force GSM to 480P, viewing angle suck and the constant issue with video scaling is annoying as most games have a large black border around them.
This drove me to want to build an improved portable with a better display solution and redesigned in the same dimensions as the PS Vita Slim, except thicker of course.
Potential features/goals:
- Laminated 5" 800x480 IPS LCD
- 10,000mah batteries (3-4 hours battery life)
- Same Dimensions at Vita Slim (besides thickness)
- China mini controller board, no PS2+ this time
- Vita buttons all around except maybe triggers
- Killer sound quality
- Video DAC relocation/replacement for Expert PS2 Trim
You can kind of see the placement of some things in the photo above. Square to the left is batteries, motherboard to the right, and circle is a fan that may or may not be used if it ends up being too large. The speaker grills in the photo above are not permanent, just to see where I can mount the speakers as they will be installed on the bottom portion of the case, just like the original Vita with a sound chamber that travels to the top.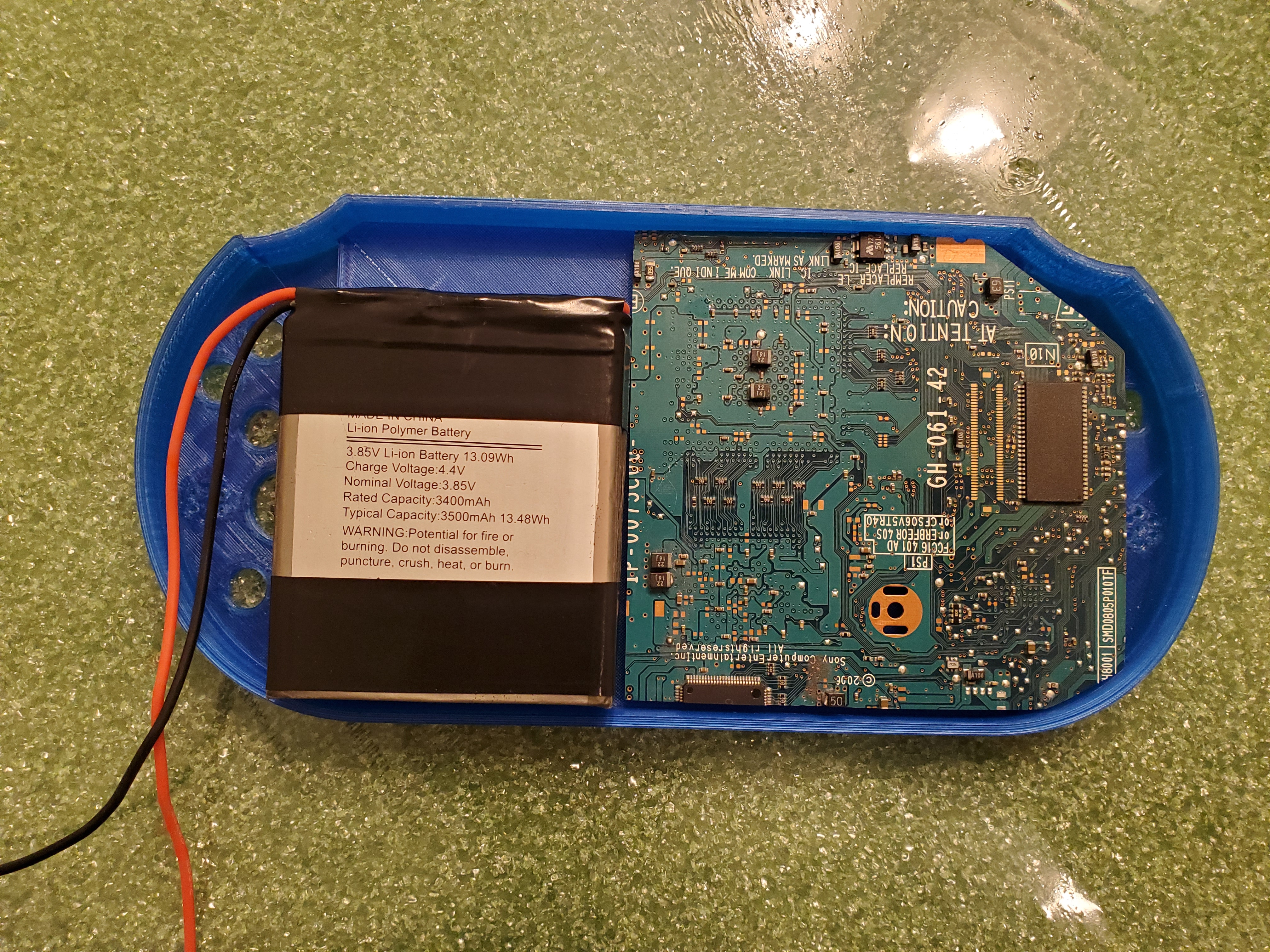 RIP Video DAC
Potential heatsink testing using MacBook air fan. Total heatsink size: 84mmx50mmx7mm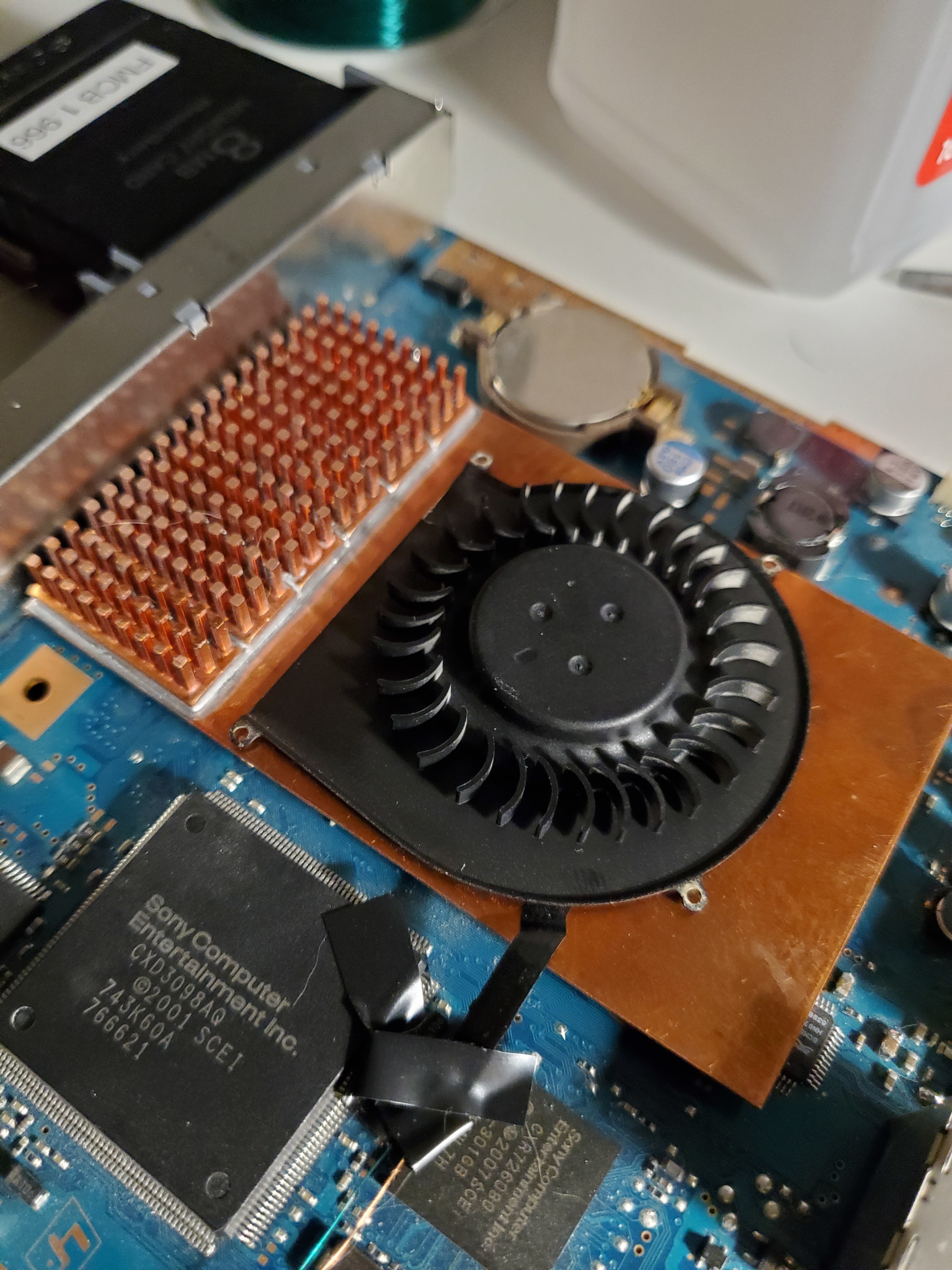 Couple rough test prints: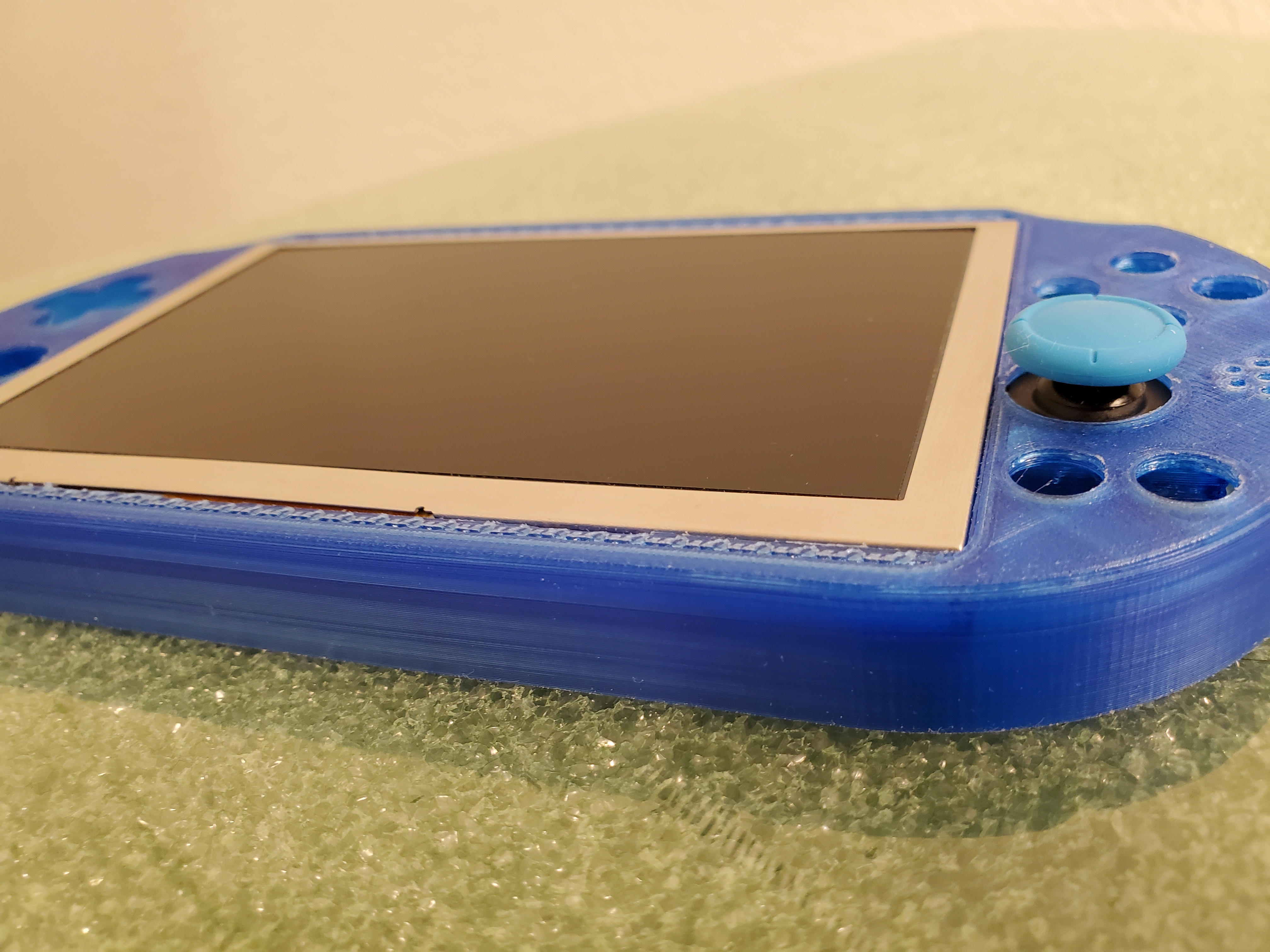 I'll have to adjust the screen height slightly to compensate for a glass panel over it. I'm playing around with the idea to LOCA (Liquid Optical Clear Adhesive) a PS Vita Slim tempered glass over the display panel to have more of a Vita aesthetic. To do this, I bought a pack of Vita tempered glass which has a thin layer of clear adhesive on the underside that just peels off. I'll mark the display visual area and cover with masking tape, paint the underside of the tempered glass borders outside the display visual area, LOCA the tempered glass onto the 5" screen (will have to remove metal faceplate off screen for glass to fit), cure with UV light, and hope it turns out decent. Again just an idea I'll have to experiment with, but should work in theory and would look pretty nice.
I have a lot of space behind the LCD to play with as I plan on have a large custom board to house the video driver board solution.
This is the one part of the build that I am stumped with. My goal is to find a solution for the best quality video out of the PS2 and have many ideas but have not found a great solution yet. I have tried 3 different PS2 to HDMI adapter, 2 of which just looked too soft and 1 looked better but ran super hot and is a bit large, a VGA to HDMI scaler adapter that didn't work with 15khz, and an Eyoyo screen using component that looked somewhat decent.
The last option I would potentially try is reverse engineering the GBS 8200 board, just like
@YveltalGriffin
Shinobi Scaler, as it would deinterlace the 480i signal as well as scale to fit the screen appropriately I believe.
There's a lot to do but at least this is a start.
Last edited: