Hey guys! It's finally time to start a worklog for this project as I finally know it's 100% doable. As some of you may know, I recently began playing with silicon molds. So far, I have made molds for a few different types of buttons, but the ones I'm most excited about are my 3ds buttons. I have always wanted a gamecube themed 3ds, and soon I can have one

The idea is to have a purple 3ds with custom molded buttons in the color of the gc buttons, with similarly indented letters.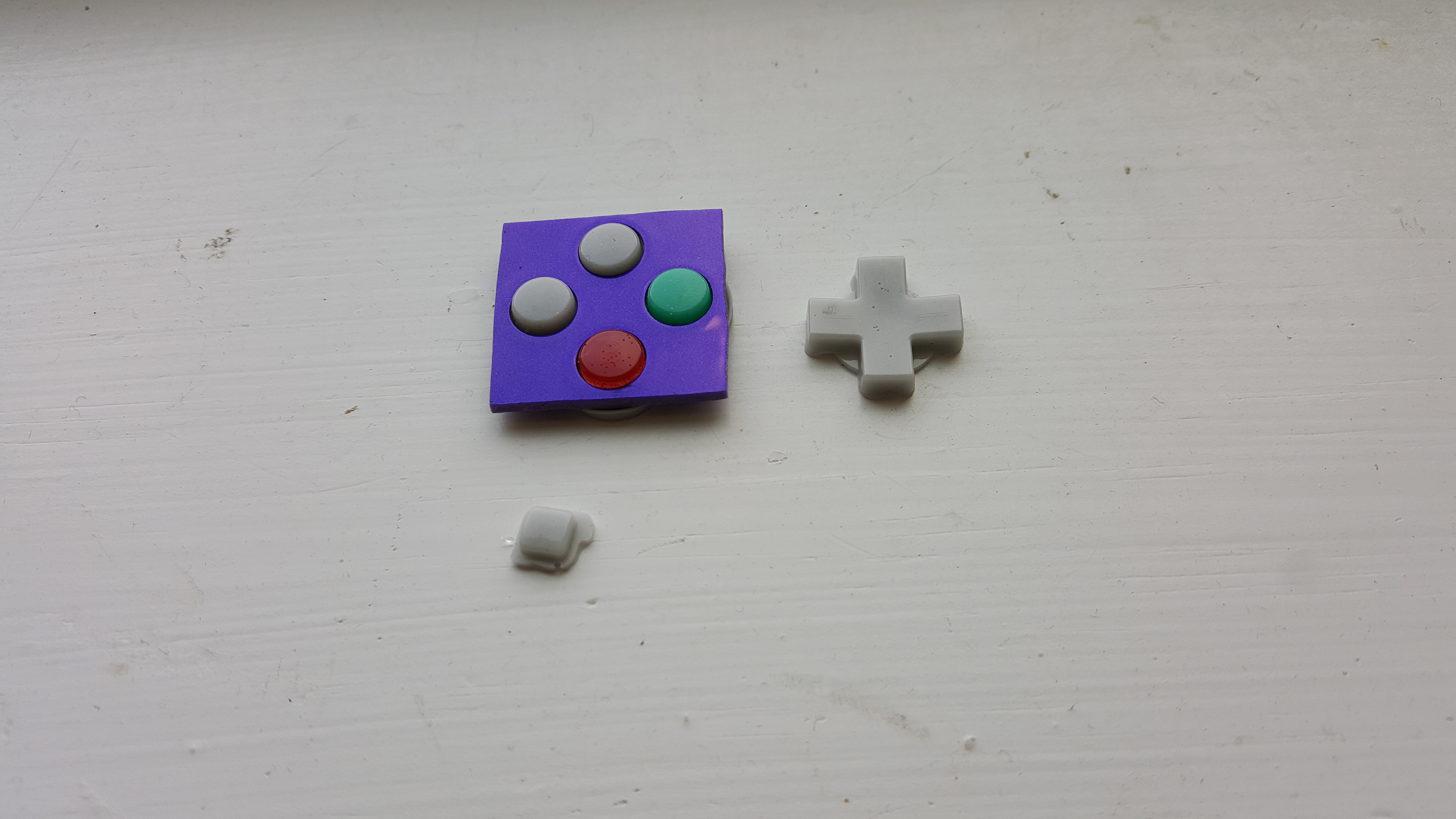 If you look at a 3ds button, you can see that the back of it is flat, meaning that you can easily make a one part mold of it. I did this, but wasn't entirely satisfied with the results. While you can see the outline of the letters on the buttons, it's pretty faint and not very noticeable.


So... Today I finally got around to removing the plastic that makes the grey letters. This plastic was very difficult to get out without damaging the button, but with my trusty dremel and a sewing needle, I managed to get a workable set of buttons.
The next step is to find a way of filling in the hole behind the letter indentations (I'm thinking epoxy putty) and making a new mold for it. I have ordered a brand new purple 3ds shell and hope to not break this 3ds while installing it

Before anyone asks, the shoulder buttons will remain purple, not off-white. The fact that they have a hole for the hinge makes them problematic to cast, but I may order some replacement white buttons and use those at some point.
The silicon I used for the molds is Oomoo 30 made by Smooth-On and I can't recommend it more highly. It's literally impossible to rip, cures quickly, and has AMAZING detail. The microscopic scratches on buttons show up in the cast.
The epoxy resin I'm using is not UV resistant, meaning it can yellow over time or with exposure to the sun. However, I set a clear dpad out in the direct sunlight all day and there is no yellowing at all. I believe that with colorants added, it will be even less of a problem.
For the colors, I'm using regular cheap acrylic paint mixed in the resin. I have done several successful casts with this method and there seem to be no negative effects.
This is only the beginning of the things I want to do with this mold equipment, so stay tuned for more